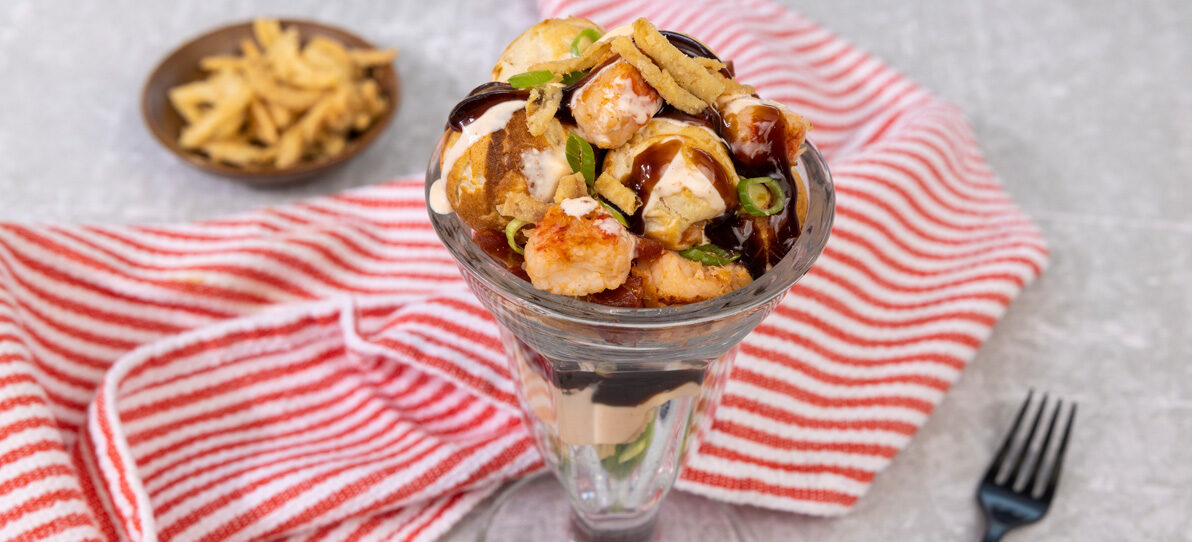 Takoyaki Sensations
Menu Part
Ingredients
| | | |
| --- | --- | --- |
| 1 | Package | Lobster Sensations® (Item# 004610) |
| 1 | Box | Waffle batter |
| 1 | beer | Sapporo |
| 1 | Link | Chinese sausage- cut on the bias and deep fried |
| 1 | Container | Dried lemongrass |
| 1 | Container | Fried red onion |
| | | Texas Pete Sriracha |
| 1 | Bottle | Mayo |
| | | Hoisin sauce |
| 1 | Stick | Butter |
Directions
Combine the waffle batter and beer and whisk together until it is thick, set in the fridge.
Take the Siricha, mayo, and dried lemongrass and whisk together forming the aioli
Saute the Lobster sensations with the butter and gently brown the Lobster Sensations. Cool down and add some of the Lobster to the waffle batter and gently fold it in
Fry the chinese sausage, set aside
Heat up the Takoyaki maker and place spoonfuls of the batter into the holes of the Takoyaki maker.
Gently turn the balls over in the maker so that they are completely cooked.
Take a parfait plastic cup: Layer on the bottom, scallions, fried red onions, aioli, hoisin sauce. Then add the Takoyaki balls and place them all the way to the rim but leave room in the center of the cup. Place some sauteed lobster sensations in the middle of the balls, along with some chinese sausages, scallions, and fried red onions. Drizzle the Texas Pete, lemongrass aioli on top. Drizzle the hoisin sauce
Place dome over the parfait container, eat with a toothpick or fork!