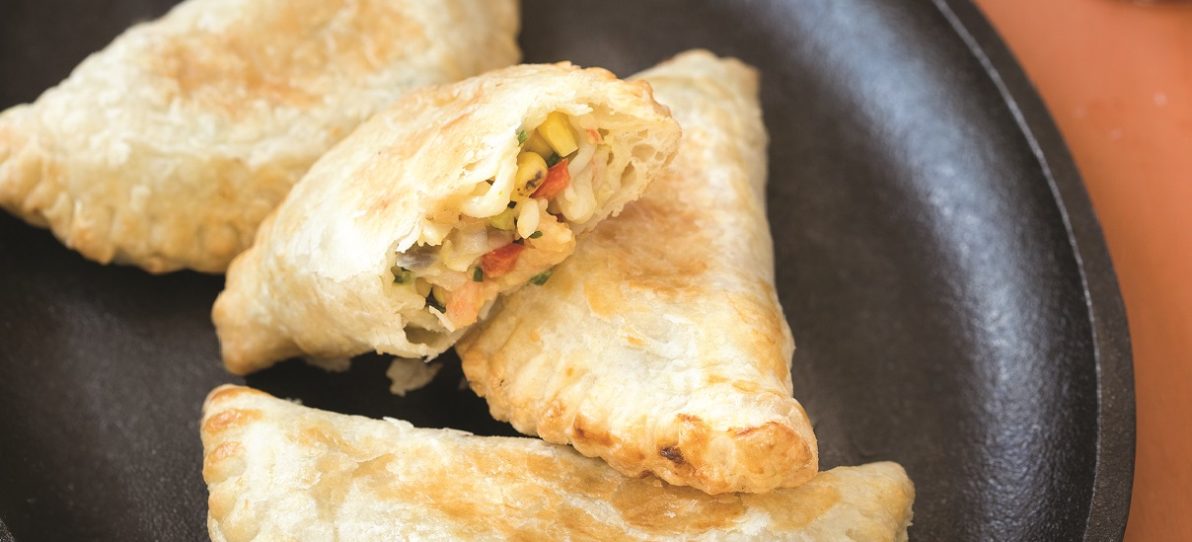 Seafood Empanada
Menu Part
Ingredients
| | | |
| --- | --- | --- |
| 1/2 | Cup | Seafood Sensations® (Item# 004530) |
| 1/4 | Cup | Green Onion, Diced |
| 1/4 | Cup | Red Pepper, Diced |
| 1/4 | Cup | Red Onion, Diced |
| 1/4 | Cup | Roasted Corn |
| 1 | Clove | Garlic, Minced |
| 1/2 | Tablespoon | Cilantro, Chopped |
| 2 | Teaspoons | Fire Roasted Jalapeno Base |
| 3 | Tablespoons | Cream Cheese |
| 2 | Ounces | Salsa |
| 2 | Ounces | Guacamole |
| 12 | Pieces | Small Sopapilla Squares |
| | To Taste | Salt |
| | To Taste | Pepper |
Directions
Combine King & Prince® Seafood Sensations®, green onion, red onion, red pepper, corn, garlic, cilantro, jalapeño base, cream cheese, salt, and pepper. Make sure to incorporate cream cheese evenly with other ingredients.
Place sopapilla square on empanada press, ensuring that it fits.
Place a heaping spoonful of mixture on the sopapilla dough and close the empanada press. Repeat until you run out of filling.
Fry empanadas at 350°F until golden brown and internal temperature is 165°F. Serve with salsa and guacamole.