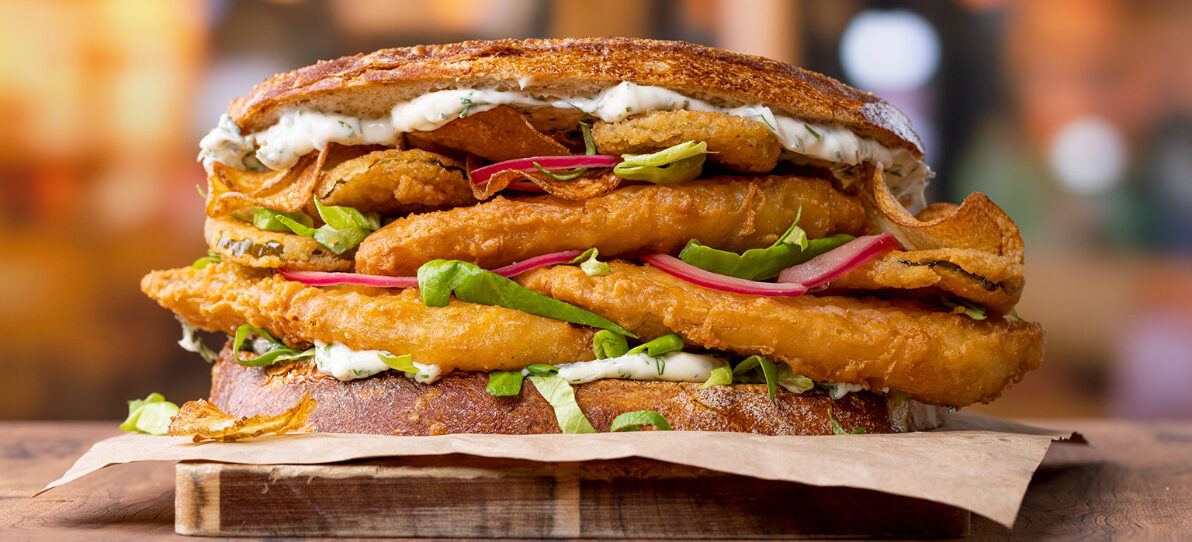 Sam Adam's Brew Pub Club
Menu Part
Ingredients
| | | |
| --- | --- | --- |
| 2 | Each | Craft Beer Battered™ Pollock Fillets 2-3 oz. (Item# 078612) |
| 2 | Each | Sourdough Bread, Sliced |
| 3 | Slices | Red Onions, Shaved, Pickled |
| 5 | Each | Fried Pickle Chips |
| 1/4 | Cup | Iceberg Lettuce, Shredded |
| 1 | Each | Russet Potato, Chips, House Made |
| | | Dill Sauce: |
| 1/4 | Cup | Dill, Fresh |
| 1/3 | Cup | Mayonnaise |
| 1 | Teaspoon | Lemon, Fresh, Juiced |
| 1 | Teaspoon | Hot Sauce |
| To | Taste | Salt |
| To | Taste | Pepper |
Directions
Prepare the dill sauce ahead of time.
Make the potato chips by slicing the potatoes in salted ice water for 15 minutes, drying them and frying at 350° till crispy.
Fry the pickle chips till crispy.
Cook the Craft Beer Battered Pollock according to package instruction to a 165°F internal temperature.
Generously sauce on both sides of the bread.
Place the lettuce on the bottom, then the pollock, top with pickles, chips, shaved onions and the top bread.