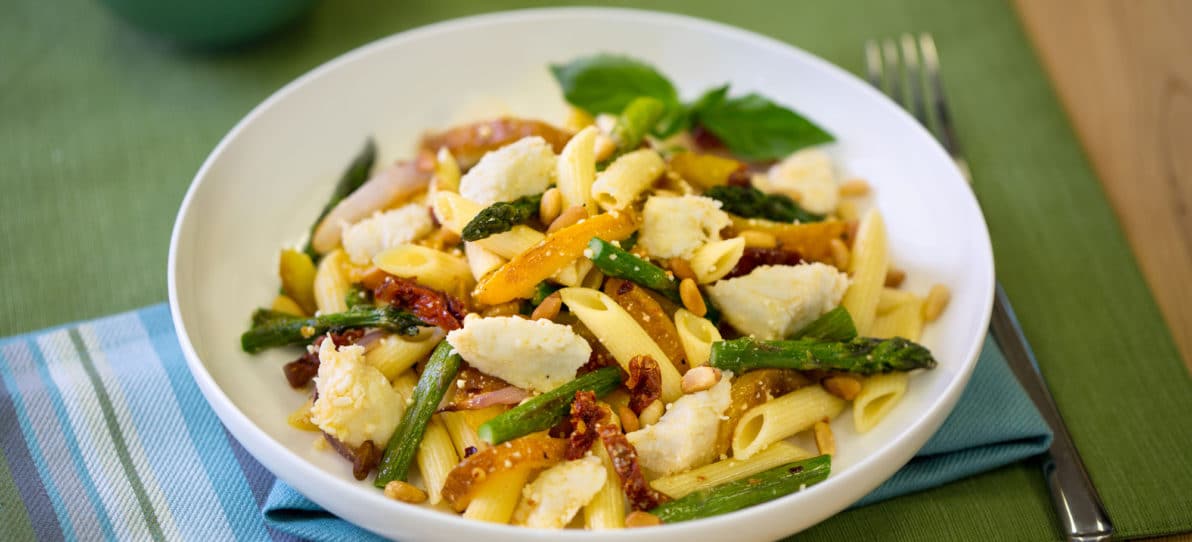 Roasted Asparagus and Crab Sensations® Salad
Menu Part
Ingredients
| | | |
| --- | --- | --- |
| 1/4 | Pound | Jumbo Crab Sensations® (Item# 004630) |
| 1/2 | Pound | Penne Pasta |
| 1 | Teaspoon | Olive Oil |
| 1 | Bunch | Asparagus |
| 1/2 | Cup | Red Onion, Sliced |
| 1 | Teaspoon | Red Chili Flakes (Add More If Desired) |
| 1/3 | Cup | Sun-Dried Tomatoes, Julienned |
| 1 | Each | Sweet Yellow Pepper, Roasted And Sliced |
| 3 | Tablespoons | Lemon Juice |
| 3/4 | Cup | Parmesan Dressing |
| 1/4 | Cup | Italian Vinaigrette |
| 2 | Tablespoons | Pine Nuts |
| 1/4 | Cup | Parmesan Cheese, Shredded |
| 1 | Sprig | Basil |
| | To Taste | Salt |
| | To Taste | Pepper |
Directions
Prepare penne according to package directions. Once cooked, toss with 1 teaspoon olive oil and chill.
Cut off 1-2 inches of the base of asparagus and discard. Slice asparagus into 2-inch pieces. Toss asparagus and red onion in olive oil. Roast in oven at 450°F until tender, remove and cool.
Toast pine nuts in oven until golden.
In a mixing bowl, add penne, asparagus, crab, roasted onion, roasted sweet pepper, red chili flakes, sun-dried tomatoes, lemon juice and dressings, lightly toss together.
Place on serving dish, garnish with shredded Parmesan, pine nuts and basil.