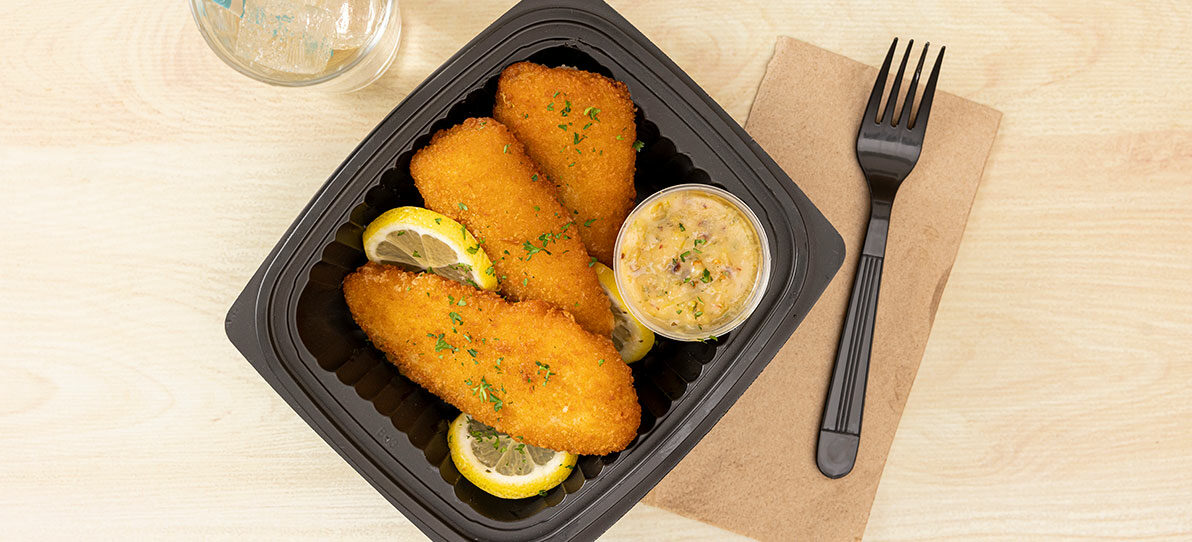 Oven Baked Lemon Garlic Alaskan Pollock
Menu Part
Ingredients
| | | |
| --- | --- | --- |
| 4 | Each | Oven Ready Breaded Pollock Fillets 3-4 oz. (Item# 075414) |
| 3 | Tablespoons | Butter |
| 2 | Tablespoons | Olive Oil |
| 4 | Each | Garlic, Cloves, Chopped |
| 1/4 | Teaspoon | Crushed Red Pepper Flakes |
| 2 | Tablespoons | White Wine |
| 1 | Each | Lemon, Fresh, Zest, Juice |
| 1/8 | Cup | Parsley, Fresh Chopped |
| 1 | Tablespoon | Butter |
| To | Taste | Salt & Pepper |
Directions
Bake the Oven Ready Pollock according to package instructions till 165°F internal temperature.
In a skillet, add the butter and olive oil till sizzling. Add the garlic and pepper flakes for approximately 30 seconds.
Deglaze the pan with white wine and let reduce to almost dry. Add the lemon juice, zest and swirl in the butter. Season with salt and pepper and add chopped parsley.
Arrange the Pollock on a plate and add sauce. Garnish with fresh lemon slices.