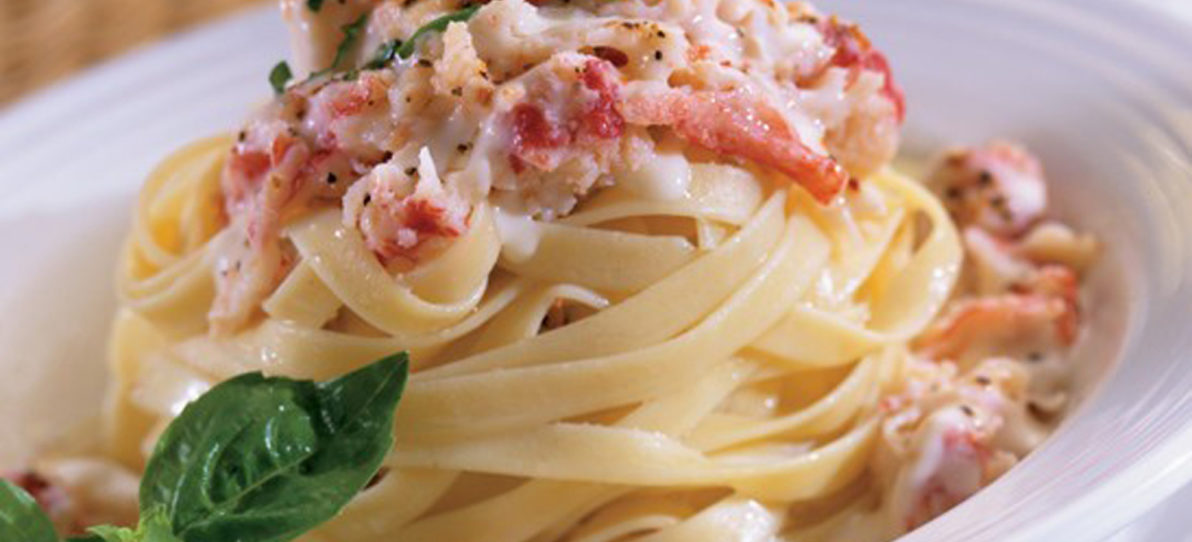 Lobster and Seafood Linguine
Menu Part
Ingredients
| | | |
| --- | --- | --- |
| 2 | Pounds | Lobster Sensations® (Item# 004610) |
| 1/4 | Cup | Butter |
| 6 | Ounces | Shiitake Mushrooms, Sliced |
| 1 | Cup | Fresh Basil, Thinly Sliced |
| 10 | Each | Green Onions, Thinly Sliced |
| 5 | Cloves | Garlic, Minced |
| 2/3 | Cup | Whipping Cream |
| 2 | Cups | Clam Juice |
| | To Taste | Salt And Pepper |
| 2 | Pounds | Linguine |
| 2 | Ounces | Asiago Cheese, Grated |
| | As Needed | Basil Sprig, Garnish |
Directions
Cook pasta according to package directions and drain.
In a large saucepan, melt butter and saute mushrooms, 1/2 cup basil, green onions and garlic until mushrooms soften.
Add cream, clam juice and bring to a boil.
Simmer for 10 minutes, stirring occasionally, until sauce is lightly thickened.
Reduce heat to low and add King & Prince® Lobster Sensations® and remaining basil and heat thoroughly.
Remove from heat and toss with pasta.
Top with cheese, garnish with basil, and serve.