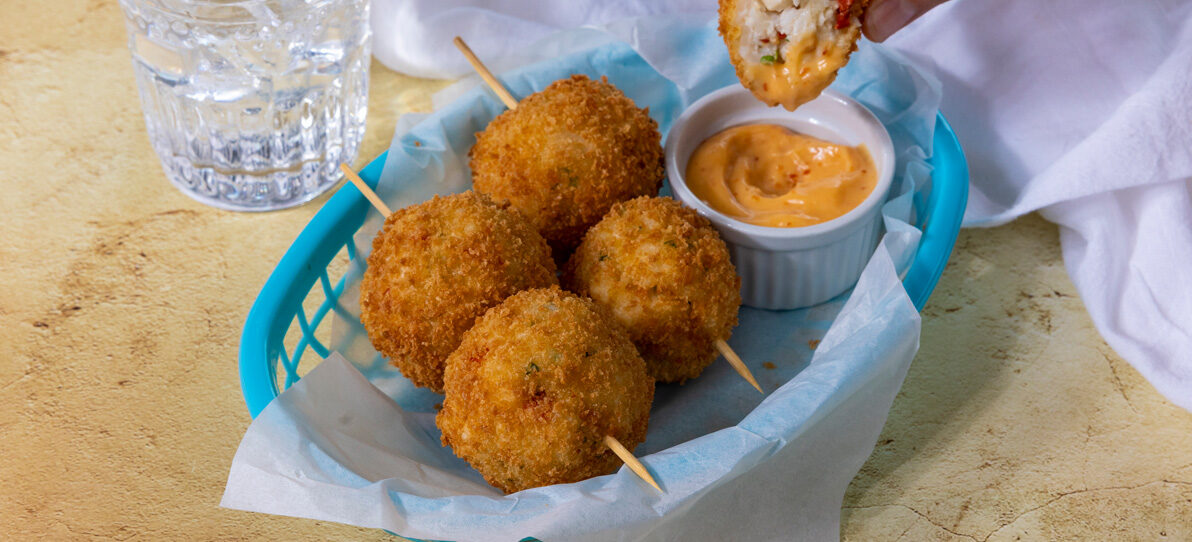 King & Prince Crab Sensation Panko Arancini Skewers/Crabncini Skewers
Menu Part
Ingredients
| | | |
| --- | --- | --- |
| 1/2 | Pound | Crab Sensations™ with King Crab Meat (Item# ) |
| 4 | Tablespoons | Jumbo Crab Sensations® (Item# 004630) |
| 1 | Tablespoon | Lemon juice |
| | Zest | One lemon |
| | As needed | Salt |
| 1/4 | Cup | Daisy sour cream |
| 2 | Tablespoons | Parsley finely chopped |
| 2 | Tablespoons | Roasted red bell peppers |
| 2 | Cups | Risotto rice |
| 3 1/2 | Cups | Chicken stock or fish stock (boiling hot) |
| 1 | Tablespoon | Butter or oil |
| 1 | | Medium onion finely chopped |
| 3 | Cloves | Garlic, finely chopped |
| 2 | Cups | Shredded Galbani Mozzarella cheese |
| *Note | | If you like it spicy, add chilli flakes as desired. |
Directions
For coating: 1/2 cup flour 1 cup Kerry Foods panko bread crumbs 2 large eggs beaten with tbsp water
Mix Crab Sensations, lemon zest, parley, roasted bell peppers, chives and sour cream in a mixing bowl.
Sautee butter and onions then add risotto rice. Adding the chicken broth slowly to boil for 1 minute then simmer for 18 minutes. Fluff the risotto and add to you bowl of Crab Sensation mixture. Put it on in a dish creating some spaces for stem to release and refrigerate for 10 minutes.
Take the mixture out of the refrigerator and make 1-2 oz balls and put mozzarella in the middle keeping them round, set aside on plate. Once the mixture has all been made into balls, refrigerate for 10 minutes.
Then start the coating process: Using the eggs make a wash by adding tbsp water put into a bowl, and put panko breading and flour into their own bowls.
Step one: flour Step two: egg Step three: Kerry panko breading Then fry until golden brown. Place on a skewer and serve with a Remoulade dipping sauce on fries.