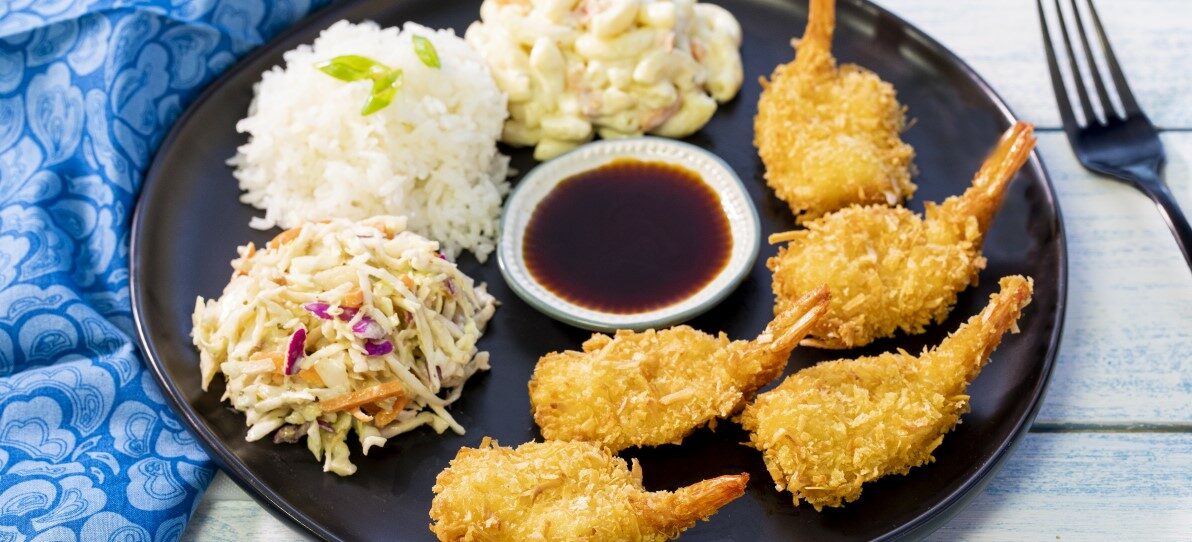 Hawaiian Lunch Plate
Menu Part
Ingredients
| | | |
| --- | --- | --- |
| 5 | Each | Coconut Butterfly Shrimp 16/20 ct. (Item# 057436) |
| 10 | Ounces | Steamed White Rice |
| 4 | Ounces | Prepared Macaroni Salad |
| 1/2 | Cup | Sesame Ginger Slaw (½ Cup Slaw Mix Tossed In 1 Tablespoon Sesame Ginger Dressing |
| 3 | Ounces | Green Pepper Pineapple Dipping Sauce |
| Green Pepper Pineapple Dipping Sauce: | | |
| 6 | Ounces | Pineapple Juice |
| 2 | Ounces | Green Pepper Hot Sauce |
| 1/2 | Cup | Brown Sugar |
| 1 | Teaspoon | Soy Sauce |
| 1.5 | Tablespoon Rice Vinegar | |
| 1 | Each | Green Onion, Sliced |
Directions
Fry shrimp at 350°F according to package instructions until 165°F internal temperature.
To assemble as a "Hawaiian Plate Lunch", serve shrimp with rice in two scoops on the plate plus a scoop each of macaroni salad and Sesame Ginger Slaw. Serve with green pepper pineapple sauce. Garnish with sliced green onion.
Mix all ingredients in a saucepan until combined. heat to boiling, then reduce heat and simmer until reduced by half.