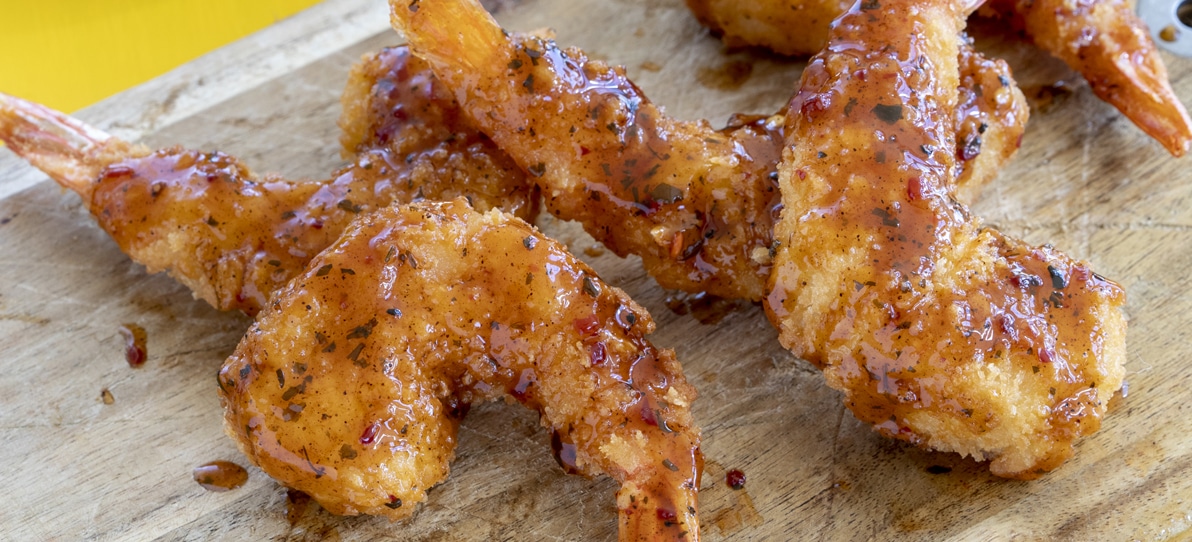 Fiery Jamaican Jerk Shrimp with Island Salad
Menu Part
Ingredients
| | | |
| --- | --- | --- |
| 5 | Each | Gold Pack Round Shrimp U/12 ct. (Item# 013145) |
| 1/2 | Cup | Jerk Sauce |
| 1/2 | Cup | Curry Coconut Lime Dressing |
| Island Salad: | | |
| 2 | Cups | Shaved Cabbage |
| 1/2 | | Red Bell Pepper, Fine Julienne |
| 6 | Each | Cucumber, Slices |
| 1/4 | Cup | Shredded Carrot |
| 1/4 | Cup | Diced Mango |
| 1 | Ounce | Shaved Red Onion |
| 1 | Each | Green Onion, Chopped, Garnish |
Directions
Fry Shrimp in 350°F oil for approximately 3 minutes or until internal temperature is 165°F.
Place in bowl once fully cooked and toss with enough jerk sauce to coat.
Toss all vegetables in a bowl with enough coconut curry lime dressing to lightly coat.
Place salad on a plate and garnish with jerk coated shrimp and chopped green onion.