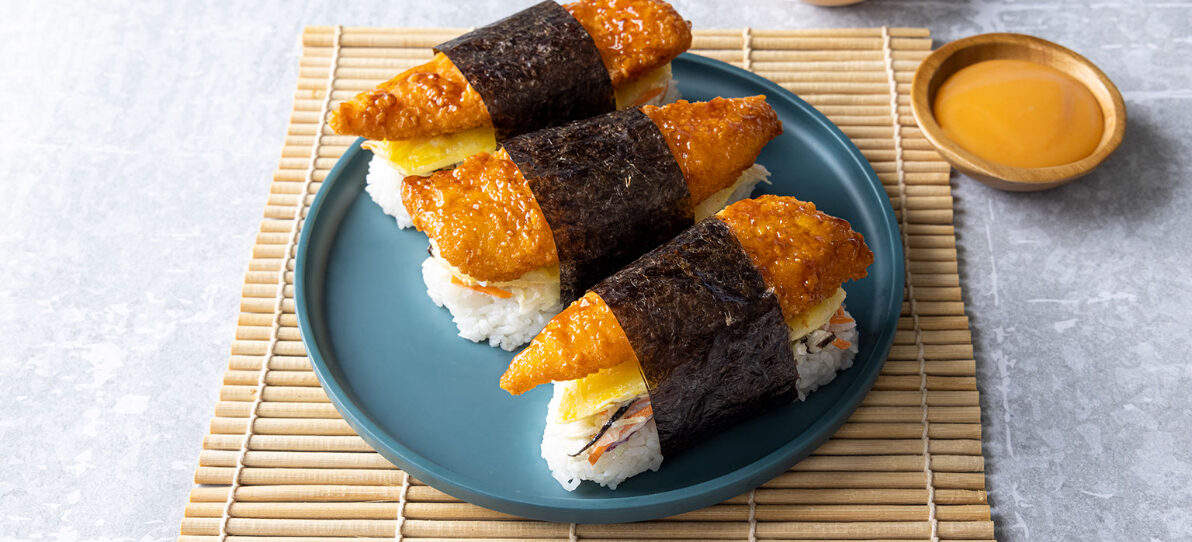 Crispy Spicy Flounder Musubi with Tonkatsu & Creamy Ginger Sauce
Menu Part
Ingredients
| | | |
| --- | --- | --- |
| 3 | Each | Crispy Southern Flounder (Item# 075711) |
| 1 | Cup | Sushi Rice, Prepared |
| 1 | Each | Nori Sheets, Cut into 3 |
| | | Glaze for Flounder: |
| 1/4 | Cup | Oyster Sauce |
| 2 | Tablespoons | Brown Sugar |
| 1 | Tablespoon | Rice Vinegar |
| 1 | Tablespoon | Sake |
| 1 | Tablespoon | Cornstarch, Dissolved in Water |
| | | Egg Mixture: |
| 1 | Each | Egg |
| 1/3 | Cup | Mozzarella Cheese Shredded |
| To | Taste | Dried Thyme |
| To | Taste | Salt |
| | | Nori Slaw: |
| 1 | Cup | Slaw Mix |
| 1/4 | Sheet | Nori |
| 2 | Tablespoons | Japanese Mayonnaise |
| 1 | Teaspoon | Sesame Oil |
| 1 | Tablespoon | Rice Vinegar |
| 1/2 | Teaspoon | Sugar |
| To | Taste | Salt |
| As | Needed | White Sesame Seeds, Toasted |
| 2 | Ounces | Tonkatsu Sauce |
| 2 | Ounces | Creamy Ginger Sauce |
Directions
Prepare the rice and cool. Prepare the sauce by mixing tall of the ingredients except the cornstarch slurry into a small sauce pot and dissolve all of the ingredients, finish with slurry and set aside. Prepare the slaw by mixing all ingredients together.
Prepare the egg by scrambling the egg and adding the remaining ingredients in a nonstick pan.
Cook the Southern Crispy Flounder by following the directions on the package until an internal temperature of 165°F.
In a mold or shaping by hand, shape your rice and egg to fit the piece of fish. Layer it by placing the rice first, the slaw next, then the egg and finish with the piece of flounder. Glaze the flounder with the sauce and wrap with nori. Serve the sauces on the side.