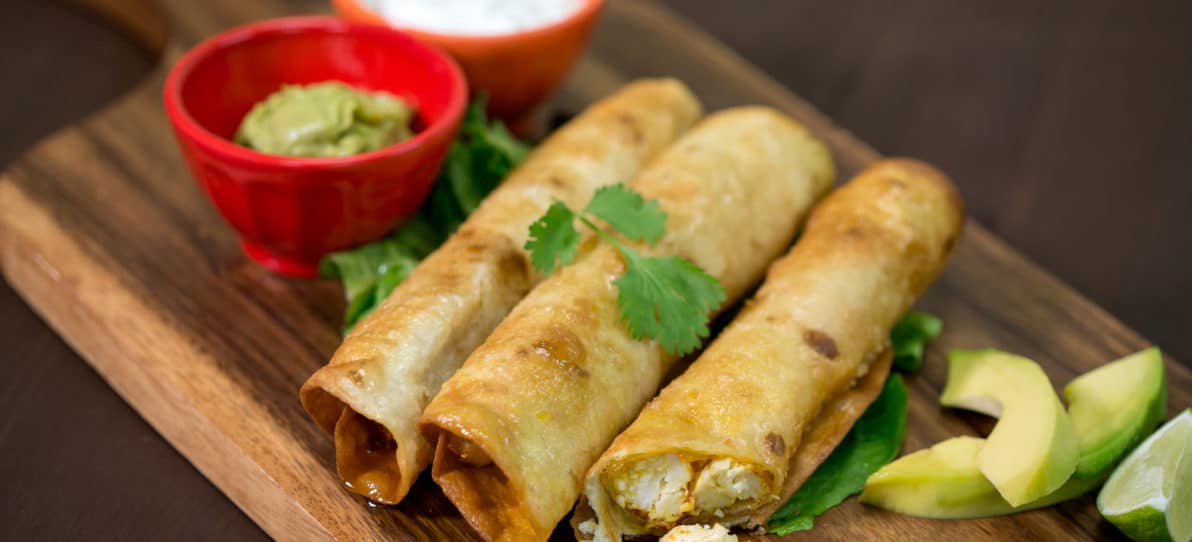 Crab and Seafood Flautas
Menu Part
Ingredients
| | | |
| --- | --- | --- |
| 3 | Cups | Jumbo Crab Sensations® (Item# 004630) |
| 2 | Tablespoons | Butter |
| 1 | Teaspoon | Paprika |
| 1 | Teaspoon | Kosher Salt |
| 1 | Teaspoon | Garlic Powder |
| 3/4 | Teaspoon | Cumin, Ground |
| 1/2 | Teaspoon | Chipotle Powder, Ground |
| 1/3 | Teaspoon | Chili Powder |
| 1/8 | Teaspoon | Cayenne Pepper |
| | To Taste | Black Pepper, Freshly Ground |
| 16 | 6-inch | Corn Tortillas |
| 2 | Cups | Queso Fresco Cheese, Crumbled |
| 1/2 | Cup | Sour Cream |
| 1/2 | Cup | Salsa Verde |
| 1/2 | Cup | Guacamole |
Directions
In a sauté pan add the butter and melt, add in the crab and the spices and seasonings and cook 10 minutes stirring often to incorporate.
Rolling 4 tortillas at a time place the filling down the middle of the tortilla and top with some of the cheese. Roll tightly and if need be use tooth picks to hold.
Deep fry in 350°F fryer until golden brown and 165°F internal temperature, remove and drain and then serve with sour cream, guacamole, and salsa verde.