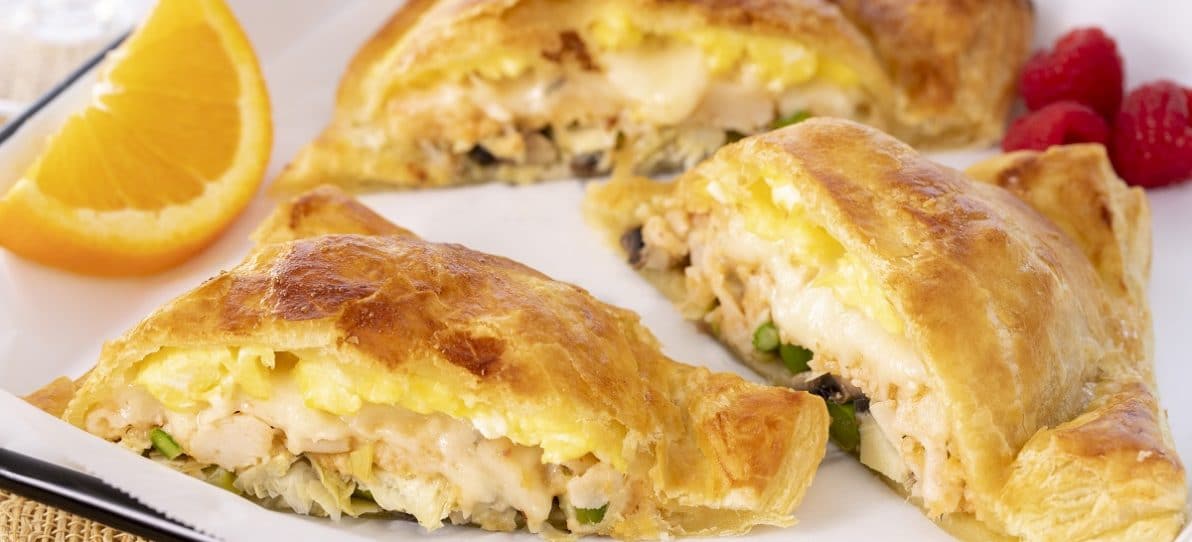 Crab and Seafood Danish
Menu Part
Ingredients
| | | |
| --- | --- | --- |
| 2 | Each | Gourmet Seafood & Crab Cake (Item# 057920) |
| 2 | Each | Eggs, Scrambled |
| 4 | Each | 5 x 5 Puff Pastry Dough Squares, Thawed |
| 1/2 | Cup | Marinated Artichoke Hearts, Chopped |
| 1/4 | Cup | Roasted Mushrooms, Sliced |
| 1/4 | Cup | Roasted Asparagus, Chopped |
| 4 | Ounces | Emmi Roth Gruyere Cheese, Shredded |
| 1 | Each | Egg, Beaten for Egg Wash |
Directions
Preheat oven to 400°F.
Take two puff pastry squares and lay them on a sheet pan.
Combine artichoke hearts, mushrooms and asparagus. Divide equally and top each pastry square with half of the mixture.
Take 1 Crab and Seafood cake and flatten it into thin patty and lay on top of veggie mixture. Repeat with the other crab cake.
Top each crab cake with half the amount of shredded Gruyere add 1 scramble egg on top of the cheese.
Take last 2 puff pastry squares on top of filled squares. Press down around all the sides crimping the pastry sheets so no filling is exposed. Brush both danishes with egg wash.
Bake for 15 to 20 minutes, or until dough is golden brown. Minimum internal temperature of 165°F. Serve with fresh fruit.