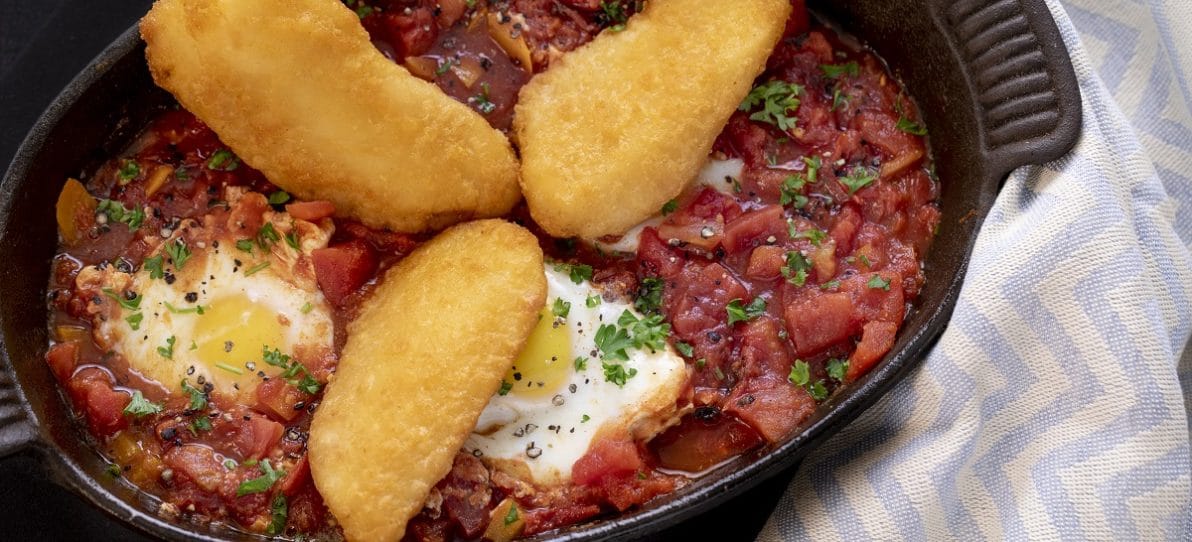 Cod Shakshuka
Menu Part
Ingredients
| | | |
| --- | --- | --- |
| 6 | Pieces | Tavern Battered® Cod Fillets 3-4 oz. (Item# 070056) |
| 6 | Each | Eggs |
| 28 | Ounces | Canned Diced Tomatoes |
| 1/2 | Each | Onions, Diced |
| 1 | Each | Bell Pepper, Diced |
| 1 | Clove | Minced Garlic |
| 1 | Tablespoon | Tomato Paste |
| 1 | Teaspoon | Cumin |
| 1 | Teaspoon | Paprika |
| 1/4 | Teaspoon | Cayenne Pepper |
| 1 | Tablespoon | Olive Oil |
| | To Taste | Salt & Pepper |
| | For Garnish | Fresh Parsley Chopped |
Directions
Sauté onion, bell pepper and garlic with olive oil in a large skillet until soft.
Add tomatoes, tomato paste, spices and seasonings and simmer for 5 minutes.
Crack eggs into mixture and keep evenly spaced in the pan. Cover and simmer for 10 to 15 minutes or until eggs are cooked.
Cook cod according to instructions or in oil at 350°F until 165°F internal temperature. Combine mayo, green onions, lemon juice, capers, oregano, jalapeno, garlic, and olives in a bowl. Add to tomato mixture and serve.