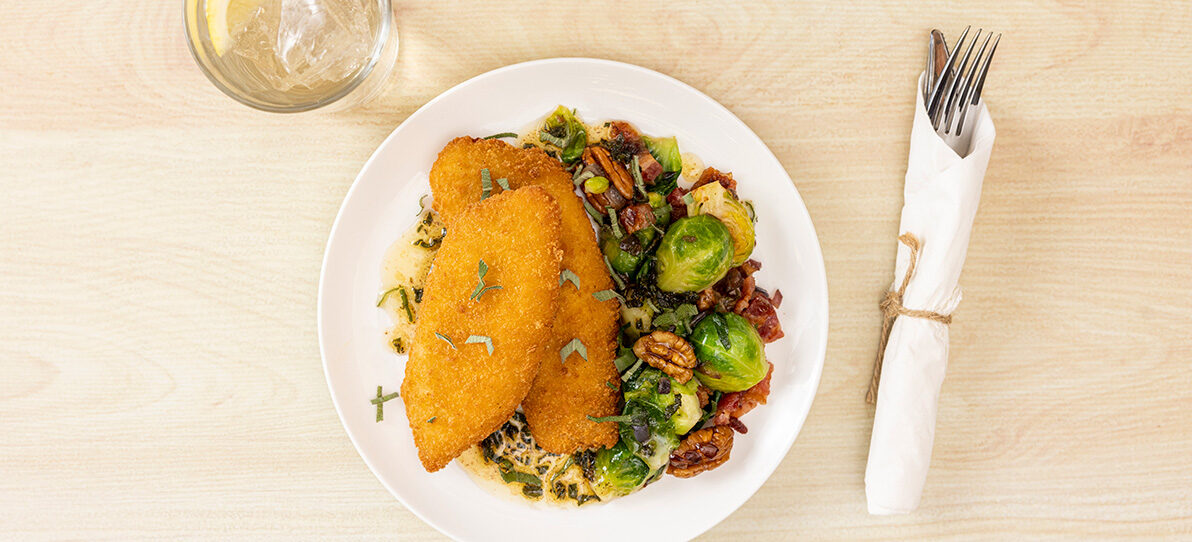 Baked Oven Ready Alaskan Pollock & Southern Brussel Sprouts
Menu Part
Ingredients
| | | |
| --- | --- | --- |
| 4 | Each | Oven Ready Breaded Pollock Fillets 3-4 oz. (Item# 075414) |
| 12 | Ounces | Brussel Sprouts |
| 3 | Ounces | Bacon, Thick Sliced, Diced |
| 3 | Ounces | Onions, Sweet, Diced |
| 3 | Ounces | Pecan Halves |
| 1/4 | Cup | Maple Sage Butter |
| To | Taste | Salt & Pepper |
Directions
Bake the Pollock according to package instructions till 165°F internal temperature.
Clean, cut in half and blanch the Brussel sprouts in salt water. While still al dente, shock the Brussel sprouts in ice water to stop the cooking.
In a skillet cook the bacon till almost crispy, add the onions and let caramelize and then add the Brussel sprouts and the pecans. Season and cook till the pecans are toasted and the Brussel sprout are slightly seared.
In a sperate skillet, melt the butter and add the fresh sage. When the butter begins to brown add the maple syrup and season with salt and pepper.
Arrange the Brussel sprouts on a platter, add the Pollock and spoon the maple sage brown butter over the top.