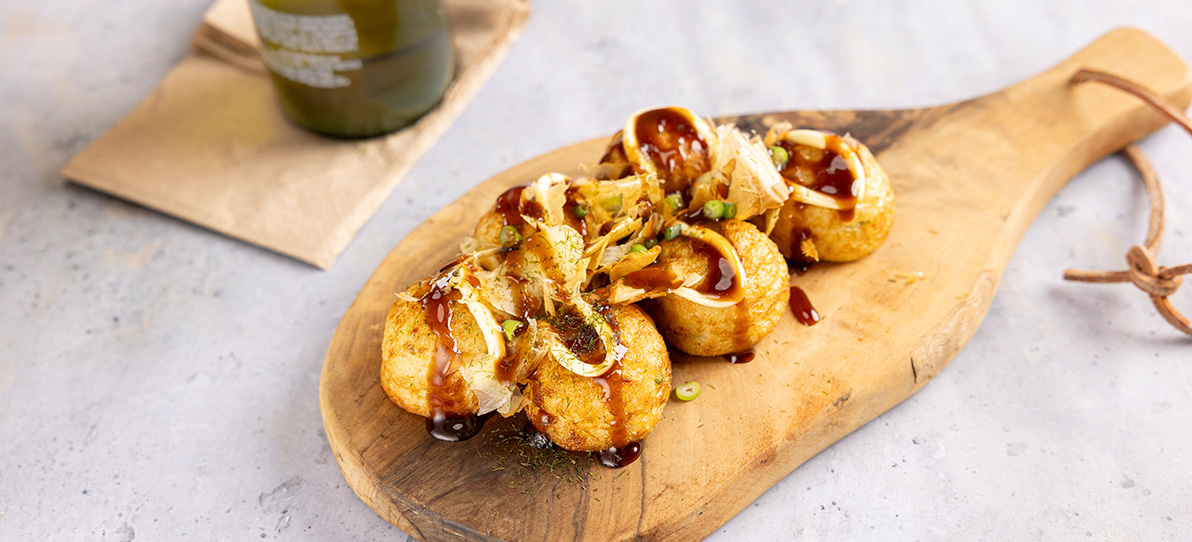 King & Prince® Takoyaki
King & Prince Seafood Takoyaki is filled with delicious cabbage, octopus, green onion and ginger. These flavorful cakes offer a soft texture and are packed in a 25 piece count for convenience. Takoyaki has versatile cooking options perfect for any operator. Offer these premium wheat cakes as an appetizer or On-the-Go Snacking for an experience your guests are sure to love.
Ingredients:
Water, Cabbage, Wheat Flour, Octopus, Egg, Modified Corn and Tapioca Starch, Soybean Oil, Tempura Flakes (wheat flour, canola oil, corn starch, salt, sugar), Sugar, Green Onion, Ginger, Monosodium Glutamate, Salt, Palm Oil, Extract (kelp, dried bonito, bonito), Starch (wheat, potato), Corn Syrup, Soy Sauce ( water, salt, wheat, defated soy, sugar, soybean, rice), Leavening (monosodium, phosphate, sodium acid pyrophosphate, sodium bicarbonate), Dextrose, Dried Bonito Powder, Hydrolyzed Protein (Bonito, Atka Mackerel), Disodium Inosinate, Disodium Guanylate, Monosodium Succinate, Sodium Carbonate, Disodium Succinate, Blend of Vegetable Oil (canola, cottonseed, rice, palm). Contains: Egg, Fish (Mackerel), Milk, Soy, Wheat, Fish (Bonito).
Case Specifications
Gross Weight: 15.43 LB
Net Weight: 13.20 LB
Cube: 0.57 CF
Height: 15.350 IN
Width: 11.420 IN
Length: 5.710 IN
Pallet Tie: 7
Pallet High: 10
Pallet Total: 70
Product Details
SPC: 10070017251259
Shelf Life: 365 Days
Item#: 025125
Pack: 12 / 1 LB